At Fleet Care, Inc we believe in the unparalleled customer service and high-quality parts offered by NAPA. This is why here at Fleet Care, Inc in West Chester we chose to be affiliated with the NAPA brand. Another advantage of being a NAPA Service Center is the large NAPA shop networks that our customers can depend on while traveling. The NAPA certification here at Fleet Care, Inc allows us to confidently guarantee our work for 24 months or 24,000 miles…a guarantee that is honored at any of our 17,000 locations nationwide should our West Chester drivers be traveling and need service they can trust.
What are the Benefits to our customers in West Chester?
Our Warranty is included FREE with your qualifying repair or service work.
Covers parts and labor on qualifying repairs and services for 24 months/24,000 miles
Honored nationwide by thousands of NAPA AutoCare Centers, so you're protected even when you travel.
As a NAPA Auto Care Center, Fleet Care, Inc follows a strict Code of Ethics so our customers will know upfront what to expect. As part of this code, Fleet Care, Inc pledges:
Fleet Care, Inc will perform high-quality diagnostic and repair service at a fair price using quality NAPA parts
Fleet Care, Inc will employ ASE certified technicians
Fleet Care, Inc will be dedicated to customer satisfaction
Fleet Care, Inc will exercise reasonable care for the customers' property while in our possession
Fleet Care, Inc will obtain prior authorization and provide a price estimate for work performed
Fleet Care, Inc will provide a system for fair settlement of customer complaints should they occur
Fleet Care, Inc will maintain the highest standards of our profession
Fleet Care, Inc will uphold the integrity of all members of the NAPA Auto Care Program
NAPA Warranty, 24 Months | 24,000 Miles Nationwide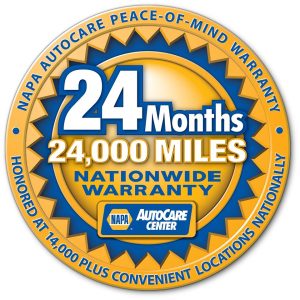 Fleet Care, Inc in West Chester offers the NAPA Auto Care "Peace of Mind" Warranty. We provide our customers with 24-months/24,000-miles of worry-free protection on qualifying parts and labor.
You're Covered!  There's no greater peace of mind to our customers in West Chester than knowing you have one less worry by having your vehicles serviced by the professionals at Fleet Care, Inc, your local NAPA AutoCare Center. They stand behind their work with the NAPA AutoCare Peace of Mind Warranty. It's a written warranty that is honored at more than 17,000 locations nationwide – more than any other automotive repair brand. So no matter where your travels take you if you ever experience a problem with a covered repair, you can count on a NAPA AutoCare Center being nearby. Talk to our team of automotive repair and service experts at Fleet Care, Inc!
The NAPA Warranty is honored at over 17,000 NAPA Auto Care locations across the country so it is perfect for wherever you travel. If you need assistance at any time and are not able to come by the shop, you can find information on your warranty and a highly rated shop here:  https://www.napaonline.com/en/auto-care. 
NOTE: For warranty service outside a 25-mile radius from your original repairing location, contact the NAPA AutoCare Warranty Administrator at 800-452-NAPA (6272). If you need any assistance or have questions stop in, we are always ready to answer any questions our West Chester drivers have here at Fleet Care, Inc.  Drive Safe and thank you for choosing our team! 
Feel free to review the NAPA AutoCare 24/24 Peace Of Mind® Warranty Terms and Conditions here
Content, including images, displayed on this website is protected by copyright laws. Downloading, republication, retransmission, or reproduction of the content on this website is strictly prohibited.