We Repair or Replace Ford Power Stroke® Diesel Engines
We are diesel technician professionals.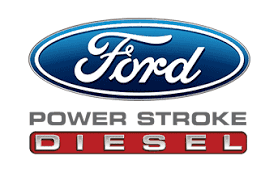 Here at Fleet Care, Inc, we know that our West Chester truck drivers love their Ford Power Stroke diesel pickups and there are many different models so it's important that your diesel technician has the experience and the diagnostic tools to handle ANY type of Ford Power Stroke that comes into the garage. This diesel engine has simply gotten better over time with serious upgrades from the Legendary 7.3L of the 1990s to the 6.0L in 2003 that "cleared the air" and the 6.4L in 2007 that was "clean, quiet, and in command" for a couple of years. The bottom line is for over two decades, Ford Power Stroke diesel engines have been the market leader in light-duty to medium-duty diesel trucks because of those upgrades and changes.
Ford Power Stroke® Diesel engines are the yardstick truckers use as their standard for power and performance. After all, how many engines get their own web site? For massive torque, muscular horsepower, and long-haul diesel dependability, Ford Power Stroke® engines lead the way in Massive Torque and Proven Performance. Here at At Fleet Care, Inc in West Chester, OH, we specialize in working on the Ford Power Stroke® Diesel. We have the "time under the hood" experience as well as the right diagnostic tools for every model of the Ford Power Stroke diesel engine that are as good as, if not better than the dealerships. We can also perform any Ford diesel warranty issues and talk trucks all day long as we not only work on Ford we work on Chevy, GMC Duramax, Dodge Cummins as well so that extra experience helps us as well.
Our diesel technicians understand the proper maintenance required to keep your Power Stroke diesel engine running smoothly, no matter what type of work it's doing. You'll always get quality service without the dealer price tag. We not only perform routine maintenance and repair but are well qualified to advise on and perform a variety of upgrades available to Ford Power Stroke engines for any application whether you use it for work, recreation, or just because you want the power under the hood! Either way, our team of mechanics can handle any problem you have or question. Stop by Fleet Care, Inc today for all your diesel repair and maintenance needs.
**Below you will see some of our services | Maintenance Schedule for Ford Power Stroke Diesel Engines | HISTORY OF FORD POWER STROKE ENGINES
Specialty Services Provided for Ford Diesel Trucks Include:
EGR Coolers
Oil Coolers
Head gasket Replacement
Head Studs
Turbo Replacement and Rebuild
Injectors
High-pressure Oil Pumps
Performance Chips and Tuners
Turbo & Exhaust Upgrades
Suspension Upgrades
DPF Services
Complete Rebuilds
Fuel system Upgrades & Replacements

FORD DIESEL TRUCK HISTORY & INFORMATION
The 7.3L Power Stroke® Diesel Engine. Here at Fleet Care, Inc in West Chester, we have the diesel technicians, the training, the Ford OEM parts, and our team is cross-trained on many different kinds of diesel trucks so you get the advantage of experience. Trust our team to get to the heart of any problem you have with your Power Stroke diesel quickly and get you fixed up and back on the road working or playing. Our experience will make the difference and ensure you pay for only what you need to be done.
The Power Stroke® Diesel story began in 1982 when the Ford Motor Company made a decision that would transform their Super Duty® pickups into the most highly regarded and hottest-selling trucks in America. In pursuit of a whole new level of durability, power, torque, and capabilities, Ford partnered with International Truck and Engine Corporation or ITEC (later re-named Navistar, Incorporated) to create a new standard in diesel engine technology that would help redefine the industry.
That first power plant, the 6.9L Indirect Injection (IDI) engine, featured a modest 170 HP and 315 lb-ft of torque. The truck world eagerly greeted that very first Power Stroke® diesel.  Not long after, came the next generation Ford Super Duty truck with the amazing 7.3L IDI diesel engine, produced from 1988-1993.
1994 - 2003 The First Power Stroke® Turbo Diesel —The Legendary 7.3L.
In 1994, the 7.3L diesel engine was reborn. This groundbreaking new power plant revolutionized the diesel truck industry, with not just the addition of an all-new turbocharged, Direct Injection (DI), an incredible new power, but the birth of the Power Stroke® name.  Talk to our diesel technicians about service for your 7.3L Power Stroke!
7.3L features included a wastegate turbocharger, HUEI fuel injectors, and an air-to-air intercooler. The 7.3L engines were an instant hit in the trucking world. Production ran non-stop through early 2003. By that time, this engine's performance and durability had made the Power Stroke® name a legend among truckers. 
Diesel Power Magazine ranked the 7.3L one of the top ten diesel engines ever produced. Today, over two million 7.3L engine-equipped Ford Trucks are still in operation – more than Chevrolet, GMC, and Dodge diesel, combined. During its 9-year production run, the 7.3L was widely acknowledged as a leader in diesel engine technology.
2003 - 2007 A New 6.0L Power Stroke® Clears The Air
In 2003, the next-generation 6.0L Power Stroke® introduced Ford Truck customers to a new engine with more power and lower emissions than the 7.3L. With its variable geometry turbocharger technology, exhaust gas recirculation system, and advanced, second-generation fuel injection system, the new 6.0L was a groundbreaking engineering breakthrough.  Talk to our diesel technicians about service for your 6.0L Power Stroke!
The result was a major increase in engine horsepower and torque (325 HP and 570 lb-ft), even with a drastic reduction in engine displacement.  This was the first engine design driven by emissions requirements.
2007 - 2010 Clean, Quiet And In Command — The 6.4L Arrives.
The Power Stroke® diesel truck engine legend reached new heights in 2007, with the launch of a new 6.4L diesel.  This engine's cutting-edge technology and reduced emissions pumped out an amazing 350 HP @ 3000 RPM with a peak torque output of 650 lb-ft at just 2000 RPM.  Talk to our diesel technicians about service for your 6.4L Power Stroke!
Developed through more than 10 million miles of torturous durability testing, the 6.4L proved to be the quietest and cleanest Power Stroke® engine to date.  Its twin turbochargers and high-pressure, common-rail fuel injection with piezoelectric fuel injectors also helped Ford Super Duty trucks meet the stringent 2007 diesel emissions requirements.
2011 The New, 2011 6.7L Power Stroke® Engine Arrives.
Ford Power Stroke® diesel truck engine technology has come a long way over the last three decades, but the party is far from over.  For the 2011 model year, Ford is introducing an all-new, built-from-scratch, state-of-the-art 6.7L Power Stroke® diesel – and it's the most advanced diesel Ford has ever built.  Talk to our diesel technicians about service for your 6.7L Power Stroke!
2019 6.7L Turbo-Diesel Power Stroke® Engine Arrives
The all-new 6.7L Power Stroke® V-8 turbocharged diesel engine will deliver significantly improved torque and horsepower as well as class-leading fuel economy, enhancing productivity and further strengthening the Super Duty's position as the class leader in towing and payload.  B20-capable 6.7L Power Stroke® Turbo Diesel delivers 935 lb. ft. of torque plus best-in-class* 450 horsepower.  The Power Stroke features a unique inverse-flow configuration: the exhaust manifolds and turbocharger are mounted between the cylinder heads above the engine block.  This inboard configuration allows a large single turbocharger to be mounted closer to the exhaust manifolds for faster air displacement and more power.  Another notable feature is the compacted graphite iron engine block that is stronger yet lighter than cast iron!  Talk to our diesel technicians about service for your 6.L Turbo-Diesel Power Stroke, we are up-to-date on the diagnostics and service for these engines already and can provide warranty work for your truck without the dealer price tags!
Lighter, more powerful, and more fuel-efficient (as well as B20 fuel compatible), this engine, built-in Ford's Chihuahua, Mexico engine plant, takes diesel engineering to an entirely new level.  New features include "Instant Start" glow plugs for quicker starts in even the coldest weather; a new, lightweight compacted graphite iron engine block (160 lbs lighter than the current 6.4L); aluminum cylinder heads (a Power Stroke® first); and piston-cooling jets for longer engine life.
MAINTENANCE SCHEDULE FOR YOUR CUMMINS DIESEL ENGINE
When do you need to schedule maintenance for your diesel engine and what is needed each time? For your convenience, we've added the preferred maintenance listing.
Talk to our professionals today at Fleet Care, Inc in West Chester about scheduling your diesel engine maintenance today and before you decide to replace your diesel vehicles if you have engine issues. We look forward to working with you to keep your diesel vehicles on the road!
Content, including images, displayed on this website is protected by copyright laws. Downloading, republication, retransmission, or reproduction of the content on this website is strictly prohibited
Ford History Information and the Ford Images are courtesy of Ford Power Stroke Diesel Power & Pride | Ford Motor Company